Since 2001, Show Sage has been offering extraordinary expertise, creativity, and visual technology for major presentations, live events, film and TV production, and permanent installations.
Our specialties include wide-screen, multi-display and interactive audiovisual configurations based on leading technologies such as Dataton's remarkable WATCHOUT and PIXILAB's innovative Blocks software.
Our vision is simple… To be the leader in software-based audiovisual solutions. We do this by inspiring our people, delighting our customers and impressing our partners with superb knowledge, relevant insight and innovative products and services.
Check out the Featured Product from Show Sage LLC
PIXILAB Blocks Version 5
Blocks is a new software product for producing and managing experiences for museums, exhibitions, visitor centers and corporate presentations. It features a unique mix of content and display management, control system capabilities, interactive presentation and mobile guide functions. PIXILAB Blocks is also integrated to work with WATCHOUT to start servers, projectors, call cues, and auxiliary timelines.
Versatile Display Management
Manage most any display device – mobile phones and tablets, monitors, projectors, and LED walls
Produce and manage content for scheduled & on-demand playback
Integrated Show Control
Control power, lighting, audio levels, and switch video inputs
Montior sensor, buttons and relays
Schedule tasks or react to trigger inputs
Immersive and Interactive Presentations
Virtual buttons can interactively control a presentation or its environment
Hidden sensors can passively trigger presentation queues
tailor presentations to visitor needs; adapt content to visitors' native language
Mobile Guide System
Visitors can use their personal mobile devices or loaner/rental devices via local WiFi nettork
Use menu or numeric keypad graphical interface for their guided journey through exhibits
Add Bluetooth beacons to automate navigation
Click learn more for a live demo
Show Sage Blocks Servers & Display Devices
Show Sage produces various small computer systems for use with PIXILAB Blocks. These include our Blocks Server Control, Blocks Server Control & Media, as well as Single, Dual, and Quad Players.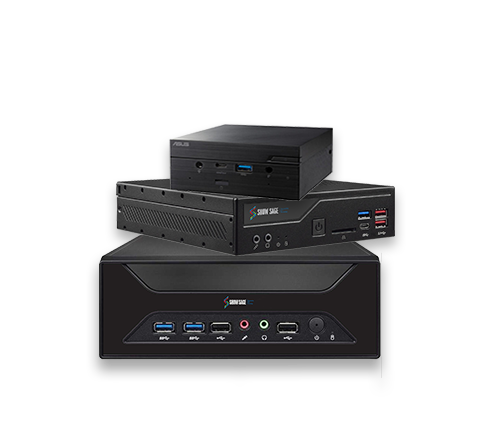 Return to LAVNCH fair