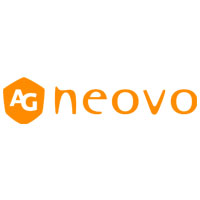 AG Neovo is a world-leading provider of display-centric solutions and healthcare devices for professional markets. The company, founded in 1999, is headquartered in Taipei, Taiwan, and has offices throughout Europe, Asia, and North America. Deriving its name from the Greek words Neo and Vo meaning New Vision, AG Neovo is one of the first in the industry to envision greater possibilities for display devices.
AG NEOVO DISPLAYS AND SOLUTIONS
Today, AG Neovo displays can be found in environments as diverse as police stations, museums, science labs, hotels, classrooms, airports, and hospitals. The displays are designed with the customer and use scenario in mind, meaning the best fit for the use environment. The company's commitment to designing display devices that answer to the functional and aesthetic demands of multi-user and public environments has made AG Neovo the choice of professionals from a variety of industries.
Check out the Featured Product from AG Neovo
Meetboard Interactive Display
Meet Meetboard™
Built for collaborative meeting rooms, Meetboard, the IFP-Series of 4K interactive display, has been unveiled by AG Neovo. Available in three sizes (65", 75" and 86") from huddle spaces to conference rooms, Meetboard eliminates the need for projectors and whiteboards without installing additional software—that means meetings can be made easy, efficient, and hassle-free. Thanks to wireless mirroring technology, even the physical space of the meeting room will be free of clutter and distraction. With the digital whiteboard, wireless presentation, video conferencing, and simple integration capabilities, Meetboard is ready to meet when you are.
The Meetboard Whiteboard App
Meetings are about brainstorming ideas and getting things done. That is where the Meetboard app comes in. The app is user-friendly interactive whiteboard software designed for interactive meetings and group discussions. On the intuitive interface, participants can insert images and draw on the screen with two styluses simultaneously in two colours. Participants can instantly save and share the meeting files over email, QR Code, or cloud drive when the meeting is done.
Return to LAVNCH fair