Founded in 1990 in California, TRENDnet has grown to become a leading and award-winning global provider of networking and surveillance solutions to small and medium-sized businesses, and home users. The company's vision is to build innovative, easy-to-use, and reliable Networks People Trust™. Their solutions network countless devices to enable your connected lifestyle and workplace, allowing users to share broadband access, multimedia content, and networked peripherals for anywhere connectivity. TRENDnet's products are used in a wide-variety of commercial and residential applications, such as at apartments, universities, industrial factories, resorts, restaurants, sports and concert venues, and more. TRENDnet's diverse product portfolio includes switches, PoE, industrial, indoor and outdoor wireless, IP cameras, fiber, NVRs, KVM, USB, and more.
Check out the Featured Product from TRENDnet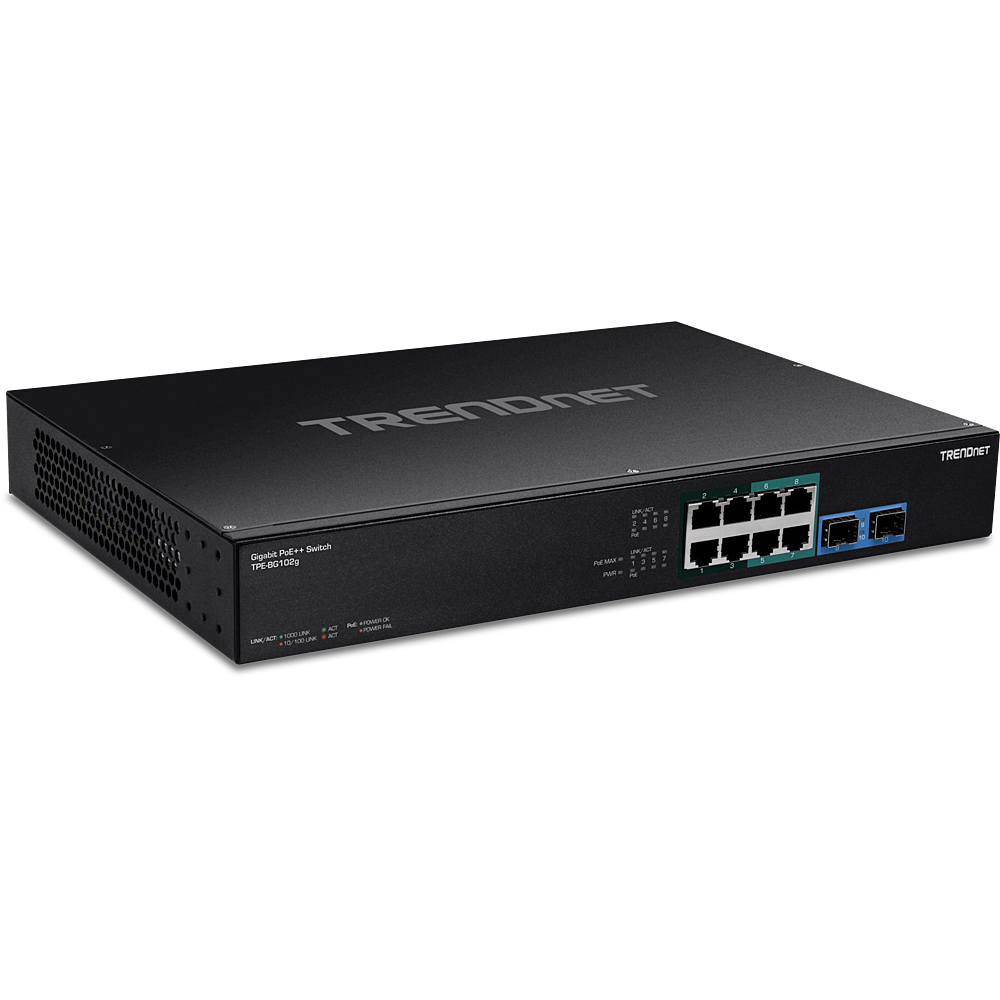 10-Port Gigabit PoE++Switch, TPE-BG102g
TRENDnet's Unmanaged Gigabit PoE++ Switches provide high bandwidth performance, ease of use, and reliability. These IEEE 802.3bt compliant switches feature a sturdy 1U 19" rack mountable metal housing with mounting brackets included. These high powerPoE++ switches also offer SFP slots for long distance fiber network applications.
Installers and integrators can save on equipment costs and reduce installation time with TRENDnet's unmanaged high powerPoE++ switches by delivering up to 95W per port ofPoE++ power and data over existing Ethernet cables. Easily network PoE devices such as high-power wireless access points, PTZ cameras, digital signage, IPTV decoders, access controls, and more with these high powerPoE++ switches.
Gigabit PoE++ Injector, TPE-119GI
TRENDnet's Gigabit PoE++ Injector, model TPE-119GI, is an 802.3bt PoE injector that combines electrical power with a gigabit network connection to produce a high-powered 95W PoE++ network signal. Auto-sensing technology conveniently delivers the correct wattage needed to power your PoE, PoE+, and PoE++ devices. Connect the Gigabit PoE++ injector to a non-PoE switch, and then run an Ethernet cable with data + power to network a PoE device up to 100 meters (328 ft.) away. Network PoE devices such as wireless access points, IP cameras, VoIP phone systems, IPTV decoders, access controls, and more with this 802.3btbt PoE injector.
Return to LAVNCH fair